It is important to know the correct dimensions of table tennis before buying new equipment. For this reason, this post will tell you everything you need to know about the important dimensions of table tennis.
Here is a quick overview of the most important dimensions
| | | | |
| --- | --- | --- | --- |
| | Table | Racket | Ball |
| Length | 9ft. / 274 cm | 9.4-10.2 in / 24-26 cm | / |
| Width | 5ft. / 152,5 cm | ca. 6 inches / 15 cm | / |
| Thickness/Height | 2.5 ft. / 76 cm | 1,6 cm | 4 cm |
| Weight | ca. 190-290 pounds | 0.35-0.45 pounds | 2,7g |
In the post, I go into more detail about the dimensions and show how they can vary. In addition, I also look at non-official standardized tables. 

What are the dimensions of a table tennis table?
Table tennis tables don't have just one "size", but many different measurements like the length, width, height or even the thickness. In addition to this, there are models of various sizes. But first, let's look at the standardized, official competition table.
Competition table – this is the official size
The dimensions of a competition table are specified very precisely in the international table tennis rules. Only tables that comply with these dimensions are allowed to be used in official tournaments such as the Olympic Games.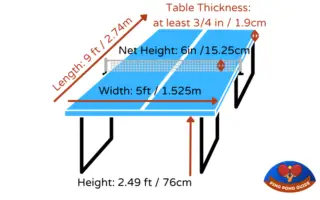 Table Top
The playing surface of a competition table is rectangular. The length is 9 ft. (2.74 meters) and the width is 5ft. (1.525 meters). At the same time, the top is 2.49 ft. (76 cm) high above the ground. 
Fun Fact: According to the rules, the tabletop "may be made of any material". The only requirement is that a table tennis ball bounces about 23cm high when dropped from a height of 30cm.
The color is not exactly specified with "dark colored". The lines, on the other hand, must be white and are 2cm (baseline & outline) and 3mm (centerline) thick.
Thickness
Since the outside of the table is not part of the playing surface, there are no fixed specifications in the rules. In general, however, competition tables are at least 1.8 cm thick. Mostly the thickness varies between 1.8 and 3 cm.
Is there a specification for the weight?
Just like for the material, the thickness and the exact color of a tabletop, there are no exact specifications for the weight. It must only be ensured that the above-mentioned dimensions are met. 
Thus, there are also extreme variations in weight for competition tables. Generally, the weight ranges between 190 and 290 pounds (ca. 90-130 kg).
Examples: 
JOOLA Rally TL: 214 Pounds / 97 Kg
STIGA Advantage Professional: 211 Pounds / 96 Kg
Butterfly Centerfold 25: 280 Pounds / 127 Kg
Dimensions for the net
The net is 6 inches (15.25 cm) high in table tennis. It is attached to vertical posts, which in turn project 6 inches (15.25 cm) outward. In total, the net is about 6ft. (183cm) long.
In what way do hobby tables deviate from the official dimensions?
Hobby tables, of course, do not have to correspond exactly to the official dimensions. Often, these ping pong tables are thinner and are made of weatherproof materials. In principle, however, they are designed according to the specifications. 
For example, the playing surface, table height and net height of most hobby tables correspond pretty closely to professional requirements. Hobby tables are often much lighter and easier to transport. 
There can be differences in the bounce height of the ball (about 23cm for professional tables) and in the thickness of the lines. 
Note: Of course, hobby tables can also completely differ from the official dimensions. After all, they do not have to meet any specific requirements to be put on the market. Thus, there are now many size variations in table tennis tables. More about this below.
How much space do you need for a table tennis table?
When you want to buy a table tennis table, the first question that often arises is whether you even have enough space to play table tennis without obstacles and restrictions. Of course, it is not enough if the table just fits. You also need to have enough space to play, right? So how much space do you need at least?
There is no official rule for this. However, there is a rule of thumb:
Length: Each player should have at least 6-7 ft. (ca. 2 meters) of space to the back. 
Width: In addition, there should be 5 ft. (1.5 meters) of space to the sides.
Height: A normal ceiling of about 8-9 ft. (ca. 2.50 meters) is sufficient.
If you add up the space requirements, you get the following space requirements: 
(9 ft. (table length) + 2 x 7 ft. ( space)) x ((5 ft. (table width) + 2 x 5 ft. (side space)) = approx. 345 sq. ft.
You would like to play table tennis indoors but you don't have enough space? No problem! Fortunately, there are many different table sizes that can find their place in almost any room.
How much space do you need to store a table tennis table?
If you don't have your own room for the table tennis table, you set it up to play and then store it safely until the next time. Most tables can be folded for this purpose.
Attention: Table tennis tables should be stored in a dry place without sunlight. It is best to protect them additionally with a protective cover for table tennis tables.
But how much space do you need to store a folded table? Of course, the dimensions, here again, vary somewhat between the different models. As a good reference point, you can again take a professional plate (Here, for example, Butterfly Centerfold 25). For storage, it needs the following space: 
Length: 5 ft. / 1.6 meters
Width: approx. 2 ft. / 0.5 meter
Height: 5 ft. / 1.6 meters
What are the dimensions of midsize table tennis tables?
As already mentioned, there are many table models that do not correspond to the full dimensions of an official table, so you can play table tennis in smaller spaces. There are again different gradations in size. For most tables, the height meets the official requirements with approx. 2.5 ft. Only the playing surface is smaller.
A distinction is made between midsize and mini tables. There is no exact classification. Midsize is mostly used when the tabletop measures between 50% and 75% of a normal tabletop. Mini plates are all models that are smaller.
What are the dimensions of a Midsize Table
Well, of course, the size is about three-quarters of the normal plate size. There are three common sizes in this format: 
5.93 ft. / 1.81 meters x 3.28 ft. / 1.00 meters x 2.5 ft. / 0.76 meters
5.58 ft. / 1.70 meters x 2,79 ft. / 0.85 meters x 2.5 ft. / 0.76 meters
4,46 ft./ 1.36 meters x 2.5 ft. / 0.76 meters x 2.5 ft. / 0.76 meters
Example: This Midsize Table
Weight: The smaller size is of course also noticeable in the weight. The small tables should be easier to transport. Therefore, they are much lighter in comparison than normal sized ones. They are in the range of 20-65 pounds (ca. 10-30 kg).
Dimensions of mini table tennis tables
Mini table tennis tables are really mini. One of the most popular models from JOOLA has the following dimensions: 
2.95 ft. / 90 cm x 1.48 ft. / 45 cm x 2.5ft. / 76 cm
Weight: 15 pounds / 7 kg

What is the size of a table tennis racket?
This had also surprised me: "Size, shape and weight of the bat are arbitrary" – This is what the official table tennis rules say. That means, unlike for table tennis tables, there are no definite requirements for the dimensions of the paddles. 
Of course, a certain size has become established, so that the various bats are not extremely different. The only dimension that is fixed is the thickness of the rubber. This must not exceed 4 mm (for sandwich rubber). So what are the dimensions of an average racket?
The size of most rackets is about the same. However, the shape of the blade often varies greatly from model to model. On average, a racket has about these dimensions (source: Dimensions.com):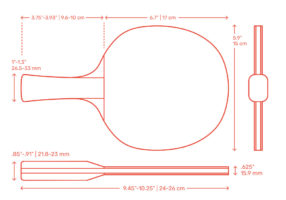 Length: 
Handle length: 3.75-3.93 inches / 9.6-10 cm
racket blade length: 5.9-6.7 inches / 15-17cm
Overall length: 9.44-10,24 inches / 24-26 cm
Width: 
Handle width: 1-1,3 inches / 2.6-3.3 cm
Racket blade width: 5.9 inches / 15 cm
Thickness: 
Handle thickness: 0.8-0.9 inches / 2.1-2.3 cm
Thickness of the bat blade: 0.63 inches / 16 mm
Total thickness including rubber: 0.75-9.45 / 1.9-2.4 cm

How much does a table tennis bat weigh?
There are also big differences in weight. As a rule of thumb, better quality bats are heavier than hobby bats. The weight of professional bats varies depending on the wood used. There are heavy and light woods. 
The weight usually varies between 0.37-0.44 pounds / 170-200 grams.
What are the dimensions of table tennis rubbers?
Single rubbers initially have a square shape, so that they can be cut to size and glued on depending on the shape of the racket blade. In thickness, they vary between 1.5-4mm depending on the style of play.
Dimensions: the rubbers usually come in the dimensions 18cm x 18cm and weigh about 0.2 pounds / 90 grams.
How big and heavy is a table tennis ball?
Important: Only the 3-star balls are standardized and certainly meet the official measurements. More about the different stars on table tennis balls. 
Fixed is thereby: 
Diameter: 40 mm
Weight: 0.095 oz / 2.7 g
Material: Plastic
Color: Matte white or orange
I hope I could answer your table tennis question in this article. If you have any further questions, please have a look in the questions corner. Otherwise, I wish you a lot of fun with the game!