If you are reading this you are currently looking for a great gift. Don't worry! In this post, you will find just the right thing. From fun and cheap ideas to high-end products. So there is something for every occasion and every level.
I didn't even include the obvious ideas in the list. A new paddle, a new table, or a set of balls are nice, but most of the time you would rather buy them yourself as a player unless they are something extraordinary but more about that later…
The most important step in your search is already behind you. You know that it shouldn't be a gift voucher or a simple card with some money in it, but something personal. She or he will certainly be happy about a table tennis gift. 
So go ahead! Find just the right gift in this list. Here is a small overview:

1. Instant Net – The net for everywhere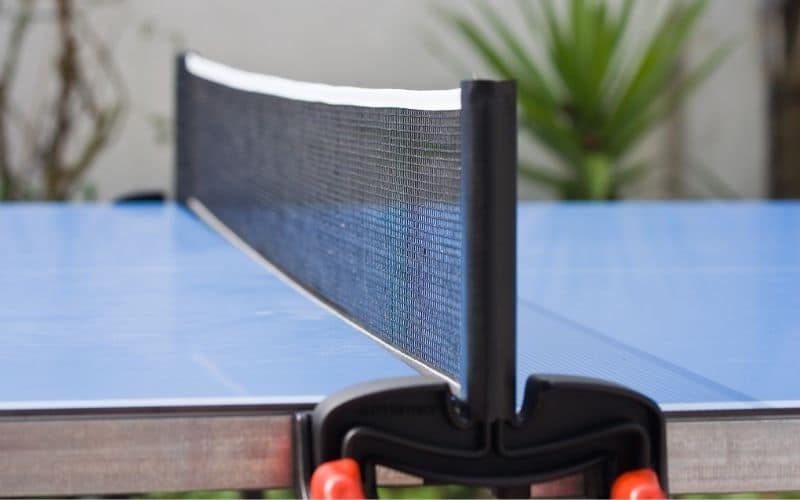 So-called Instant Nets are ideal to turn any table into a table tennis table, no matter if it is a dining table at home or a picnic table on the way. They are also very handy.
Sometimes there are public ping pong tables without a net. With an instant net, you can change that very quickly. 
Having something like this in your repertoire gives you the freedom to play table tennis much more often. And the best? They are quite affordable and therefore an ideal gift: 
The most popular net is already available for $19.99 – Find it here.

2. Table Tennis Robot (maybe in a bundle)
For table tennis, you need only two players. But sometimes you feel like playing but no one else has time. If you want to play alone, you can set up one half of the ping pong table, right? Yes, or you have a table tennis robot.
Sounds expensive? It can be, but the beginner's version, the iPong Robot, is already available for about $120. So for some occasions, it is exactly the right gift: 
With it, you can also train alone and improve. Another idea would be to give away a ball machine bundle. For this, I would recommend a set of training balls and a ball net to go with the robot. On Megaspin you can get a preassembled Bundle for $179: 

3. Table Tennis Paddles with Individual Designs (My recommendation)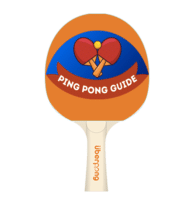 This is definitely not the ideal bat for the next competition, but it is a gift that is guaranteed to hit the spot. On the site uberpong.com, you can have an individual design printed on the bat cover. 
Here you can get really creative. Whether sayings, faces, or really beautiful designs everything is possible. As a result, you have a really unique racket. The rubbers are actually quite good, but of course, there are better ones. 
In my opinion, this is an extremely original gift and for most occasions a hit. You can get the custom printed racket for $30 + shipping. 
Very important: Since the bat must of course first be manufactured, you should be early for this gift. There is an average manufacturing time of 7-10 days PLUS shipping time.
Create custom ping pong paddles!

4. Multigame Table – The Swiss Army Knife of Games
If you like to play table tennis, in my experience you will also like other table games. Of course, you can't give away a foosball table, a pool table, and a mini table all at once, right? Wrong! 
A multigame table combines exactly that (and some even more). It is the Swiss army knife of games. There are many different models but this table for just under $150 would be the one I would go for: 

5. Spin-Trainer
A spin trainer is another way to train table tennis on your own. You simply attach it to the end of the table and it is ideal for training all types of strokes. 
At under 20€, a spin trainer is an ideal small gift for a table tennis enthusiast: 

6. Table Tennis T-shirt – Professional or Funny
You can almost always use a t-shirt for playing table tennis. Now it depends on the level. For recreational matches, you usually wear normal t-shirts. But what if you can directly deliver a message to your opponent through your shirt.
There are many t-shirt stores where you can find funny ping pong shirts or even create your own. 
Who participates in official competitions will most likely not play with a funny saying on the chest. So how about an official competition shirt from JOOLA?

7. Conversion Top
Not everyone has room for a ping pong table at home. But often you have a dining table or a garden table, which can be ideally converted into a table tennis table with a Conversion Top. To do this, simply place the Conversion Top on the table.
As already mentioned, you could also use an Instant Net on any table, but a Conversion Top offers a much better table tennis experience. The ball bounces similarly to how it would on a real table, and most models have the right dimensions as well.
This is a rather large and expensive gift. You get the most popular model on Amazon for about $150.

8. Scoreboard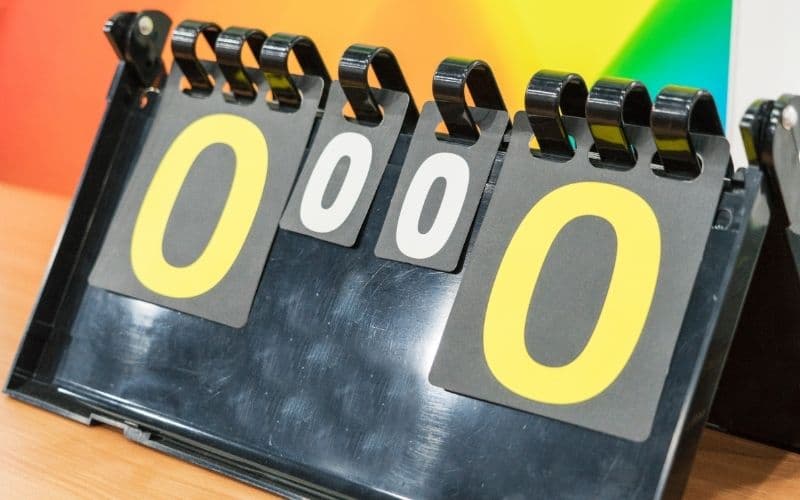 Are you looking for something for your table tennis partner? Maybe you have already argued about the ACTUAL score. Wouldn't it be nice to have the score simply black on white, so that nobody can doubt it?
How about a simple scoreboard as a gift (maybe with a wink). You can get good models for $15-25. I would take this one: 

9. Mini Table or Midsize Table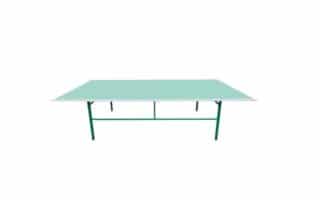 Another possibility to play some table tennis at home, even without having enough space, is a mini or midsize table.
As the name suggests, this is a smaller table tennis table. Playing on it is not so easy, because of course, you have to hit a smaller area.
The advantage of this is also that a mini table can be easily transported, unlike a normal table tennis table. You could take it with you on your summer vacation, for example. There, it is possible to use the table as a camping table, too.
There is still a distinction between super mini, mini, and midsize tables, which are once again different in size. Here are my recommendations for the three categories: 

10. Table Tennis Balls with Your Own Design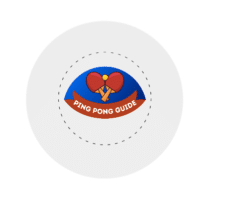 As with paddles, you can also personalize table tennis balls with your own design on uberpong.com. You can even choose between 1-star and 3-star balls and between white and orange. 
A 1-star ball is available for less than $2 and a 3-star ball costs a little over $2 per ball. 
Very important: Since the balls have to be printed first, you should take care of this gift early.

11. Online Coaching Voucher
For table tennis players who want to get better but don't play in a club, online coaching is a great way to work on their technique with a professional coach.
A great option is the Tabletennisdaily Academy. You can get a 3-month membership for about $30.

12. Learn from the Pros – Table Tennis: Steps to Success (Book)
You learn the most from the experts. Of course, you don't get better just by reading a book, but you need the right knowledge that you can then apply in practice.
In this book are many helpful tips and thereby refine your game. 
You can get the book for $17 here: 

13. Table Tennis Table with Own Design – For the really Big Occasions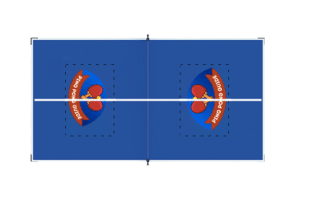 If you are looking for a small gift for a family member or a friend, this might not be it for you…
Because this gift costs more than $1000. However, if you're planning on getting a big gift in a group or something, this could be just the thing for a table tennis enthusiast.
At uberpong.com you can customize a high-end indoor table with your design. For instance, how about the company logo or a funny saying on the tabletop?
The table used is a high-end table from Stiga and Tailgate Victory. The print does not influence the playing characteristics of the table.
For the print, you have different options where and how big the design should be. You can even customize the entire surface, not just a few areas. Of course, this option costs the most.

The Excitement Begins!
I hope you have found just the right gift idea in this article or at least you have come up with a new idea due to this post. 
If so, then you now have a unique gift that is guaranteed to be appreciated. Now you can look forward to the moment of delivery. Have fun!