Do you feel like playing table tennis, but don't know where? Don't worry! This post should help you find just the right place to play. There are many options, and some you might not think of right away. Curious? Then here are 7 great places to play table tennis.
The list

1. At public tables (e.g. in parks)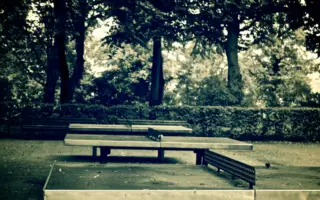 The advantage of table tennis over many other racket sports is that you can find tables in public places to play for free.
Most often, these are located in parks, playgrounds, swimming lakes, or other public places.
The tables that are there are usually made of stone or concrete. In the meantime, however, many places also have newer metal and plastic tables. To always be on the safe side, it is recommended to take your own net.
Because it is always possible that the plates themselves do not have one or that it has been damaged.
The point about public plates is that you need to know where to find them.
Because sometimes they are a bit hidden or the very park you are going to has no plates.
Always find plates with the Ping Pong Map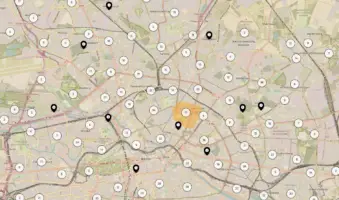 Super helpful in the search for public tables is the website pingpongmap.net. As the name suggests, you can find a map with registered ping pong tables. Especially when traveling, I have often found great tables to play on.
Important: The site is based on the help of the users. This means that everyone can enter tables and maybe upload a picture to make the search easier for others
Tipp for readers from the UK: If you are from the UK there is another side that you can check: The table finder from tabletennisengland.co.uk.
2. In the club (not only as a member)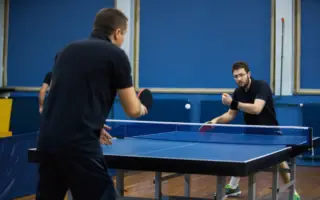 If you want to play table tennis regularly, joining a club is always a good option. Even if you don't want to participate in competitions yourself, you can find suitable offers at many clubs.
Often there is also the possibility that as a club member, outside the normal training times, the tables can use without additional costs. Especially in winter, this has great advantages when you can not otherwise play without further ado.
You can play table tennis at most clubs even if you are not yet a member. Because there is often a free trial training, which you can visit without obligation.
How do you find the right club?
Are you looking for a club, but don't know where the nearest one is? The website of you national table tennis association can help you. For instance, here is the club finder of the USATT: Click Here
There you will find a directory of all registered table tennis clubs.
How much does the membership fee in the club cost?
Of course, this varies from club to club. Basically, the membership fees are usually very manageable in relation to the sports offered. Most of the time, the cost is between $80 and $100 per year.
3. Rent table tennis tables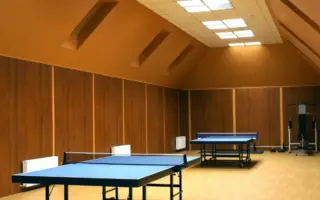 A disadvantage of public table tennis tables in parks and the like is the dependence on the weather. Especially in winter, you often can not play well outside for months. In this case, you can rent table tennis tables in many sports facilities
This offer is usually found where squash, badminton, and tennis are also offered. Some clubs also offer this.
The price is usually between 10€ and 20€ per hour. Especially if you want to play regularly, this can be quite expensive over time. It is worthwhile to think about joining a club.
4. Play at home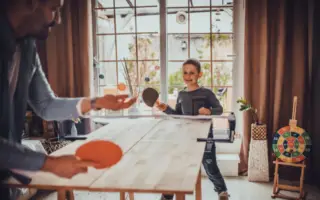 A place to play table tennis is obvious: your own home. Granted, not everyone has the opportunity and especially the space to set up a table tennis table at home, but this is also not the only option.
There are various accessories to play at home even without a real table. Therefore, here are the top accessories to play at home:
Conventional table tennis tables
If you have a garden or a spacious hobby cellar, I would always recommend buying your own table tennis table. It gives you so much freedom to have the option to play at home.
The prices for table tennis tables are really reasonable. You can get solid indoor tables for $300-400, and outdoor tables are available for around $400.
Mini Table
If you don't have enough space for a normal-sized table (Here is an overview of the dimensions in table tennis), there are also smaller versions. These have space in almost every apartment and you can get them for $50-150 (depending on size).
Conversion Top
Another option for playing table tennis at home is conversion tops. In principle, these are simply table tennis tops without legs. To play, you simply place them on an existing table (for example, a dining table) and can perfectly use the space in your home.
Flexible net for any table
Another way to easily play on your own dining table is simply to make a net on it. The inexpensive flexible table tennis nets
can be attached to actually any table or flat surface, giving free rein to the imagination
5. Play anywhere with a flexible net
As just described: The adjustable table tennis nets give one the opportunity to turn almost any flat surface into a table tennis table– Yes admittedly, this playing surface then doesn't exactly meet the official specifications, but that's precisely the fun of it.
You are also not only bound to the tables at home but can actually play anywhere. You only need to have the net, racket, and a ball with you.
A funny example of what I mean can be found in this video from Pongfinity:
Be creative! Who knows what else to play ping pong on 😁
6. In clubs and bars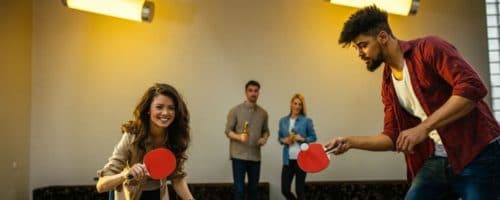 Table tennis is currently becoming more and more popular. You can see this in the fact that there are more and more bars and even clubs that have table tennis tables. For me, this is a perfect offer for an entertaining evening with friends.
In the US for instance, there are whole bar chains now where you can rent tables. To of the most popular ones are SPIN and ACEBounce.
Going out in the evening, good company, good music aaaand of course table tennis – What more could you want?
7. In recreational centers
Often you can find table tennis tables in recreational facilities, such as youth and neighborhood centers. The good thing is that there actually always find people to play even if you go alone.
This offer is of course especially exciting for children and young people. Table tennis is also just the right activity to make new friends.
Where there's a will there's a way
I hope I could show you with this post that there are many possibilities and places to play table tennis. No matter where you are, there is always a way. And in the end, it will always be worth it. Because table tennis is just fun 🥳
Thanks for reading!
Fun playing the game 🏓